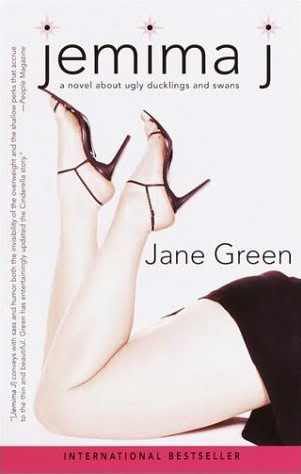 Jemima J: A Novel About Ugly Ducklings and Swans
by: Jane Green
Published: June 5, 2000 (2001)
Publisher: Broadway 373 pages
"Jemima Jones is overweight. About one hundred pounds overweight. Treated like a maid by her thin and social-climbing roommates, and lorded over by the beautiful Geraldine (less talented but better paid) at the Kilburn Herald, Jemima finds that her only consolation is food. Add to this her passion for her charming, sexy, and unobtainable colleague Ben, and Jemima knows her life is in need of a serious change. When she meets Brad, an eligible California hunk, over the Internet, she has the perfect opportunity to reinvent herself–as JJ, the slim, beautiful, gym-obsessed glamour girl. But when her long-distance Romeo demands that they meet, she must conquer her food addiction to become the bone-thin model of her e-mails–no small feat....
"
summary from Goodreads
Jemima Jones is a 27 year old woman who is unhappy with herself at first I found her exasperating she was constantly putting herself down but as I read more I came to understand why she felt the way she did and eventually I learned to like her. When the story first starts she is truly lonely and she knows that her weight is a big factor in her loneliness. It's kind of depressing but at the same time that to me made the story more real, because we do live in a society where looks matter and even if we don't wish things were that way people are over looked because of it. Jemima's life is a routine she hates it's not until she's forced to take an internet class that her life as well as that of other changes. It's a simple routine change that unravels a series of changes in her life that lead to romance, heartbreak, adventure, and a new view and way of life for her.






I think this song is one Jemima should hear =D


The writing style was some what confusing because it kept changing from Jemima's point of view, to that of an omniscience person. At first this threw me off and left me slightly confused, you couldn't be sure if it was her thoughts or if it might be some one else. I loved to hear her thoughts though because some of them were stuff people think about but don't often say especially if you want to be included. I do feel the format of the book was needed to understand her better and also to understand some of the other characters.
I have to be truthful and say the cover of a book is important to some extent that's why i think Jemima J could have had a better one. I was about to miss out on this book only because the cover didn't really catch my attention. The only reason I picked it up was because the book next to Jemima was really vibrant and i wanted to see what the one beside was like. There was another book cover i found later and I think it's better suited for this book I loved it and i think its better not to mention the fact I'm still not sure why the first cover (the one up top) is just a picture of legs lol:
I loved how Jane Green touched some topics that people found controversial. Like obesity, anorexia and addictions of various types as well as dependency on people and things. Jemima had many addictions, and feelings that stemmed of her weight. She wasn't perfect but then again who truly is? I read some of the other reviews and I believe they felt Jane Green was trying to say only skinny, beautiful people get accepted. I don't want to give away any spoilers but let just say if she had, things would have been different in the overall story. I don't believe Jane Green was saying you have to be skinny to be accepted . I believe (and this is only my opinion) that she was showing the ugly side of life that exist but people over look some times.
With that being said i give Jemima J a four out of five only because even if i later enjoyed the writing style it took some time to get use to it. For now this is it my lovely readers


as always
♥

, Carol